50 Of The Most Inspirational Quotes About Achieving Goals
Here I present to you 50 of the most inspirational quotes about achieving goals that I've collected from here and there to uplift your spirit, inspire you, and motivate you.
Sometimes, the words of people who have been through challenges, overcame obstacles, and achieved great things in life can directly touch our souls in a way that can't be explained.
If you feel that connection with one of these quotations, write it down and display it where you can see it every day for a daily dose of inspiration.
Related: Reasons Preventing You From Achieving Goals
Inspirational quotes about achieving goals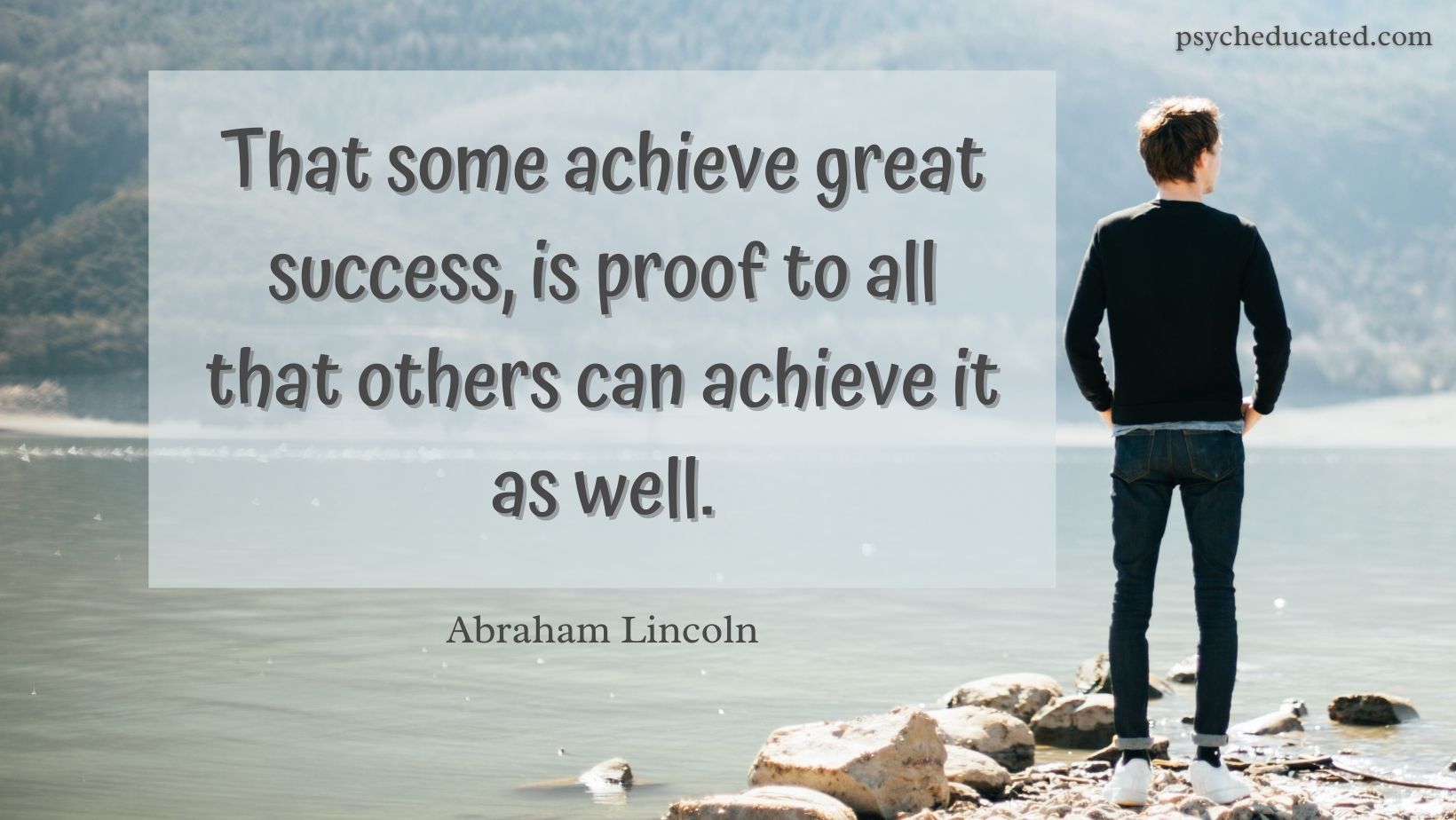 That some achieve great success, is proof to all that others can achieve it as well.

Abraham Lincoln
Do the one thing you think you cannot do. Fail at it. Try again. Do better the second time. The only people who never tumble are those who never mount the high wire. This is your moment. Own it.

Oprah Winfrey
If you want to be successful, find someone who has achieved the results you want and copy what they do and you'll achieve the same results.

Tony Robbins
You never achieve success unless you like what you are doing.

Dale Carnegie
The only thing standing between you and your goal is the bullshit story you keep telling yourself as to why you can't achieve it.

Jordan Belfort
Having the right mindset is the key to achieving goals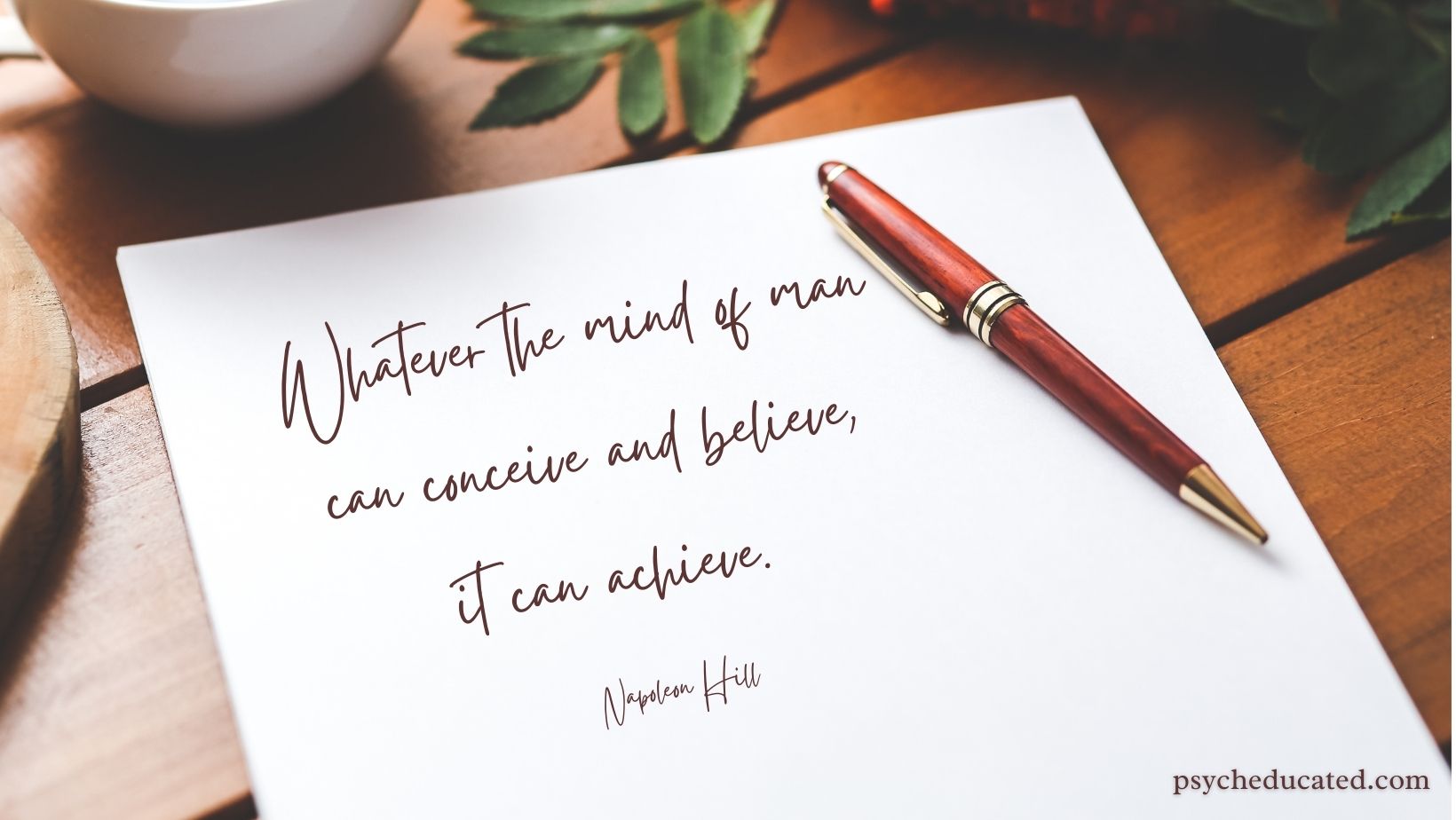 Whatever the mind of man can conceive and believe, it can achieve.

Napoleon Hill
The people who are crazy enough to think they can change the world are the ones who do.

Steve Jobs
Optimism is the faith that leads to achievement. Nothing can be done without hope and confidence.

Helen Keller
It always seems impossible until it's done.

Nelson Mandela
Keep your dreams alive. Understand to achieve anything requires faith and belief in yourself, vision, hard work, determination, and dedication. Remember all things are possible for those who believe.

Gail Devers
If you can dream it, you can do it.

Walt Disney
When you want something, all the universe conspires in helping you to achieve it.

Paulo Coelho
If my mind can conceive it, and my heart can believe it, I know I can achieve it.

Jesse Jackson
Nothing stops the man who desires to achieve. Every obstacle is simply a course to develop his achievement muscle. It's a strengthening of his powers of accomplishment.

Thomas Carlyle
Just do it already!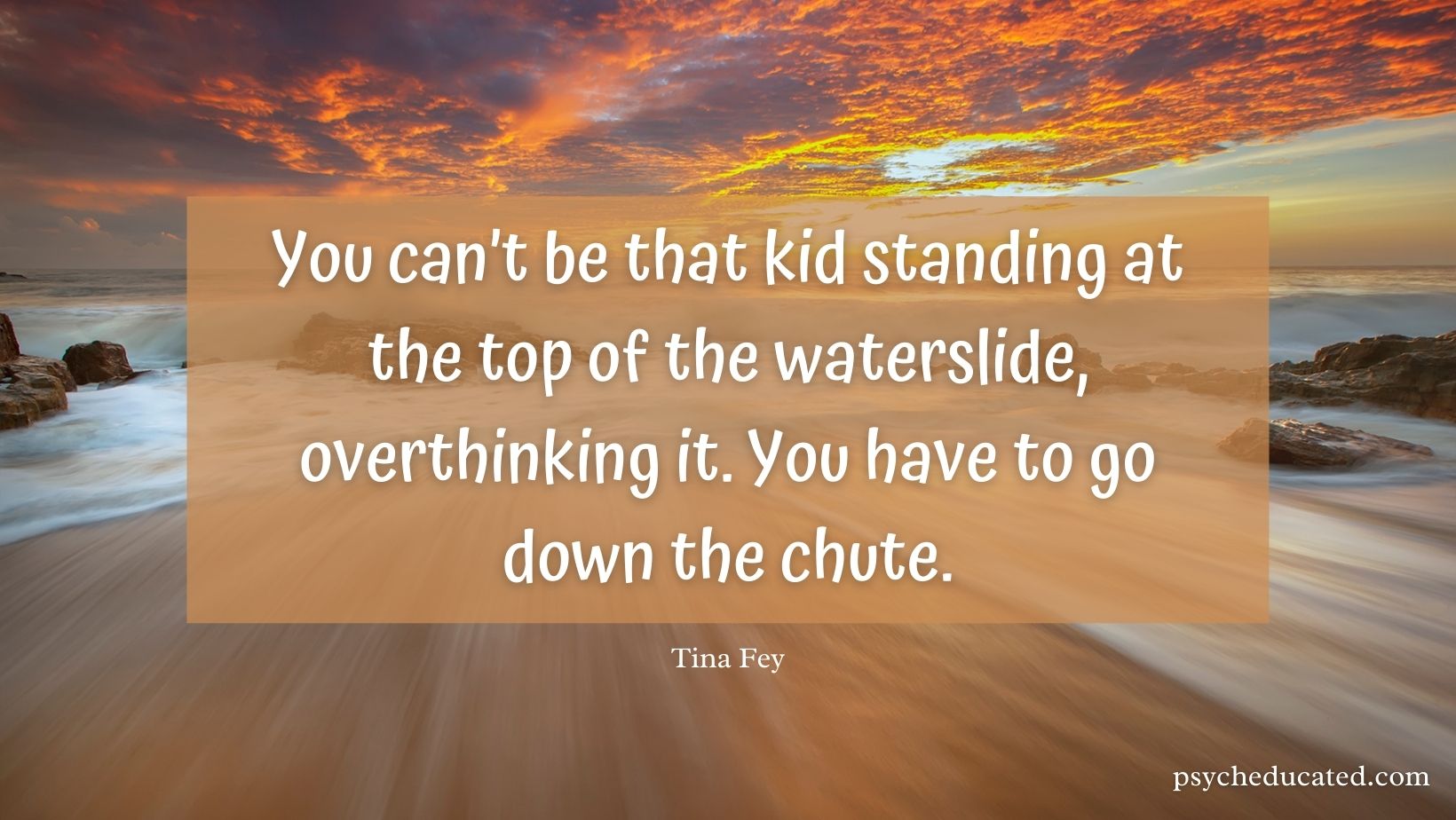 You can't be that kid standing at the top of the waterslide, overthinking it. You have to go down the chute.

Tina Fey
You don't have to be great to start, but you have to start to be great.

Zig Ziglar
Action is the foundational key to all success.

Pablo Picasso
If something is important enough, even if the odds are against you, you should still do it.

Elon Musk
We hold ourselves back in ways both big and small, by lacking self-confidence, by not raising our hands, and by pulling back when we should be leaning in.

Sheryl Sandberg
Overcome personal barriers to achieve your goals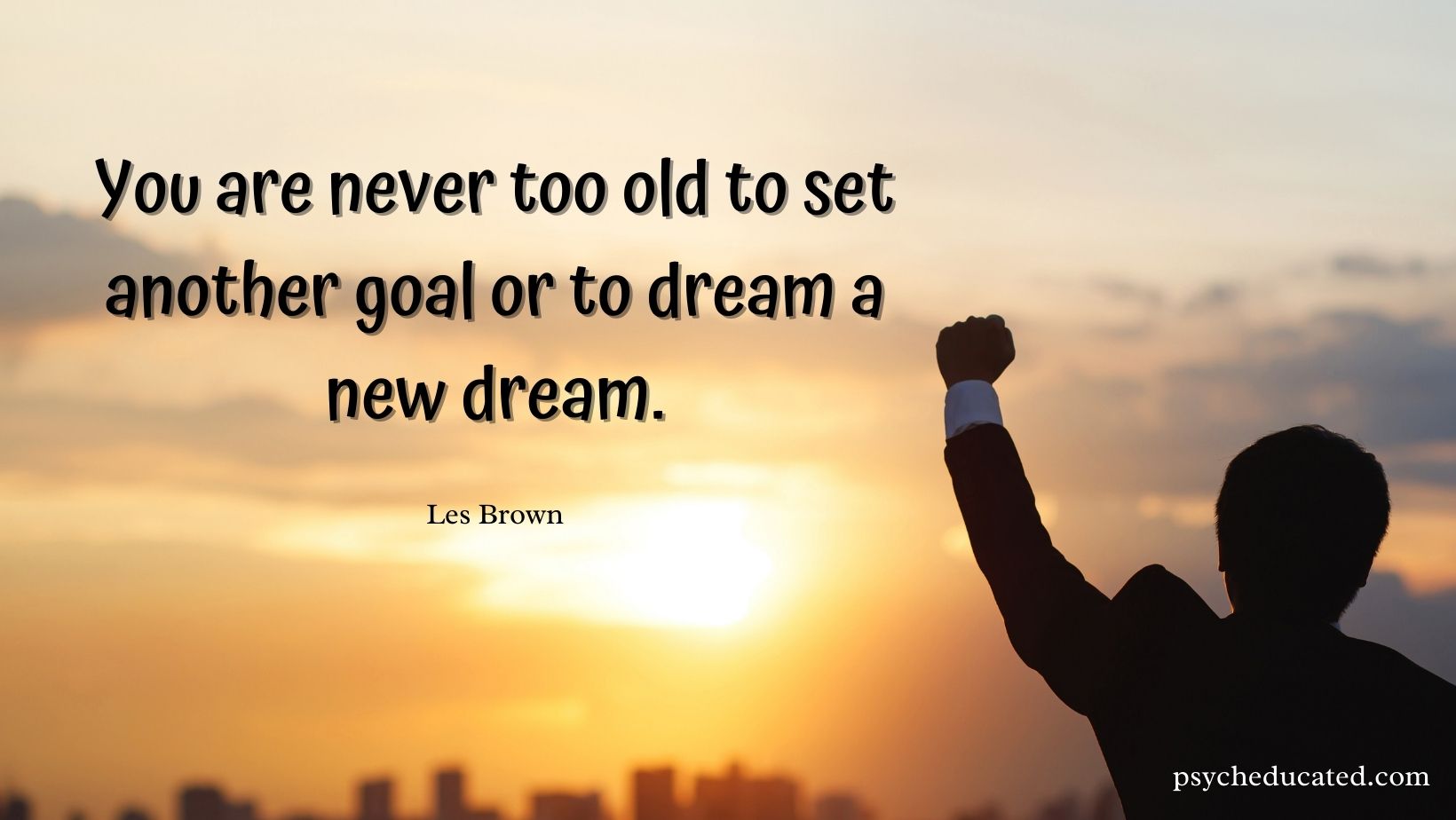 You are never too old to set another goal or to dream a new dream.

Les Brown
Gratitude is getting out of laziness, self pity, denial and insecurity, in order to walk through that door God has been holding open for you this entire time.

Shannon L. Alder
You measure the size of the accomplishment by the obstacles you have to overcome to reach your goals.

Booker T. Washington
The artist who aims at perfection in everything achieves it in nothing.

Eugene Delacroix
Achieving goals needs commitment and consistency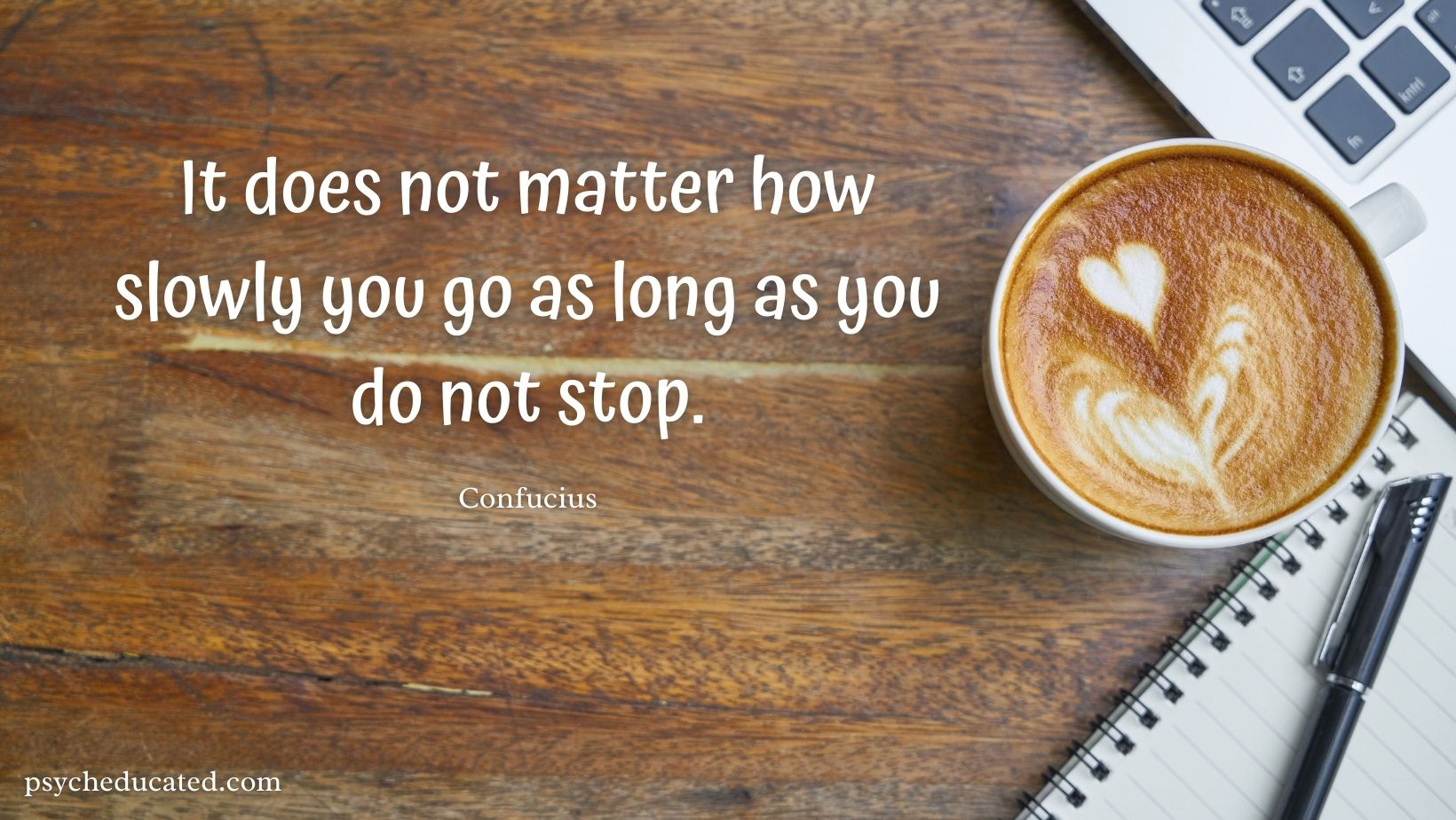 It does not matter how slowly you go as long as you do not stop.

Confucius
Desire is the key to motivation, but it's determination and commitment to an unrelenting pursuit of your goal – a commitment to excellence – that will enable you to attain the success you seek.

Mario Andretti
Stay focused, believe that you can achieve at the highest level, surround yourself with others who believe in you, and do not stray from your goal.

Zach Ertz
Once you achieve one goal, you should be looking forward to trying to build onto the next thing, and not just getting comfortable with what you're doing.

LL Cool J
Make your goal a priority
The question I ask myself like almost every day is, 'Am I doing the most important thing I could be doing?'

Mark Zuckerberg
A person should set his goals as early as he can and devote all his energy and talent to getting there. With enough effort, he may achieve it. Or he may find something that is even more rewarding. But in the end, no matter what the outcome, he will know he has been alive.

Walt Disney
Aim high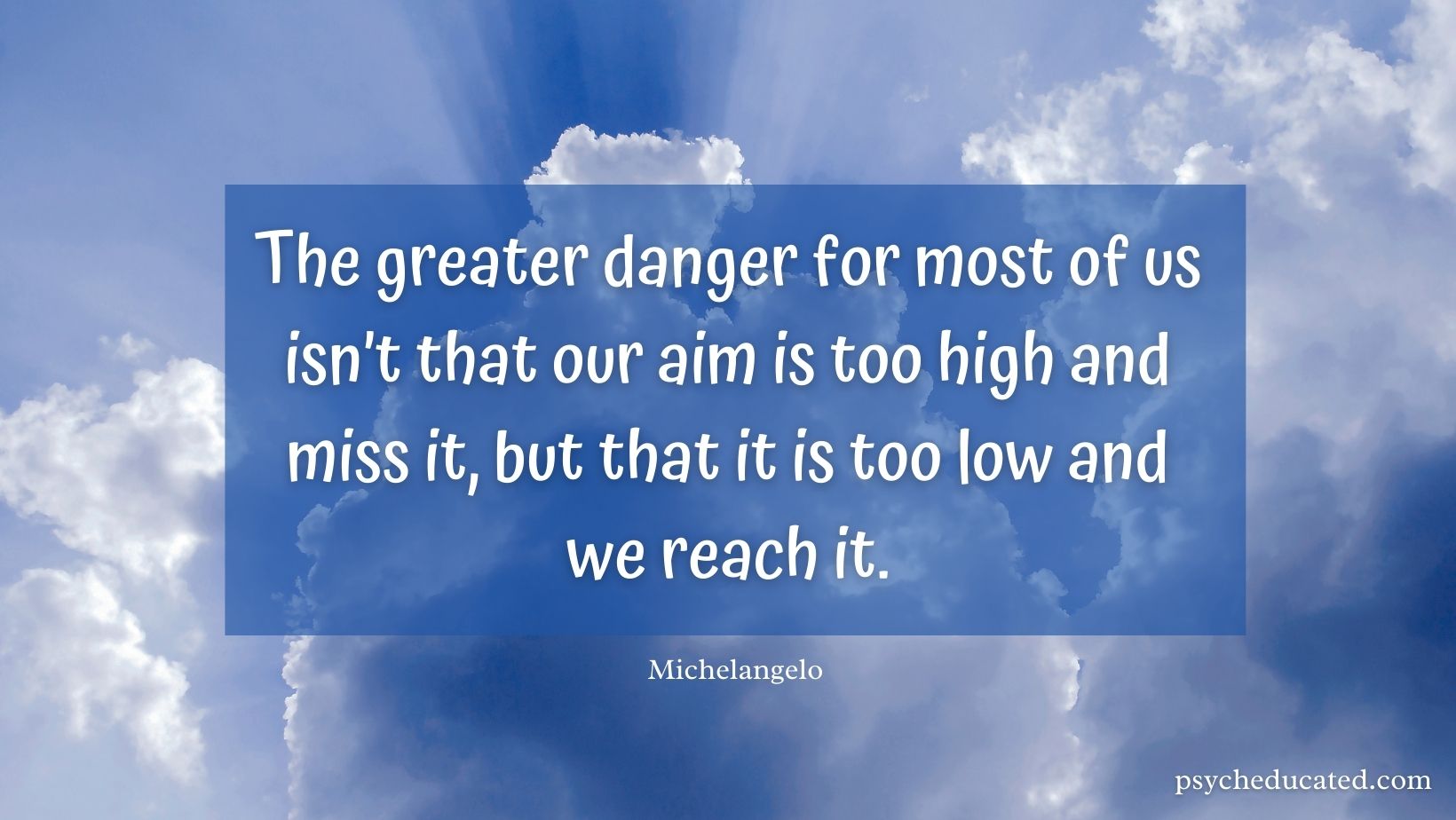 The greater danger for most of us isn't that our aim is too high and miss it, but that it is too low and we reach it.

Michelangelo
Aim higher in case you fall short.

Suzanne Collins
All who have accomplished great things have had a great aim, have fixed their gaze on a goal which was high, one which sometimes seemed impossible.

Orison Swett Marden
You have to set goals that are almost out of reach. If you set a goal that is attainable without much work or thought, you are stuck with something below your true talent and potential.

Steve Garvey
One way to keep momentum going is to have constantly greater goals.

Michael Korda
When you fall, you just get up again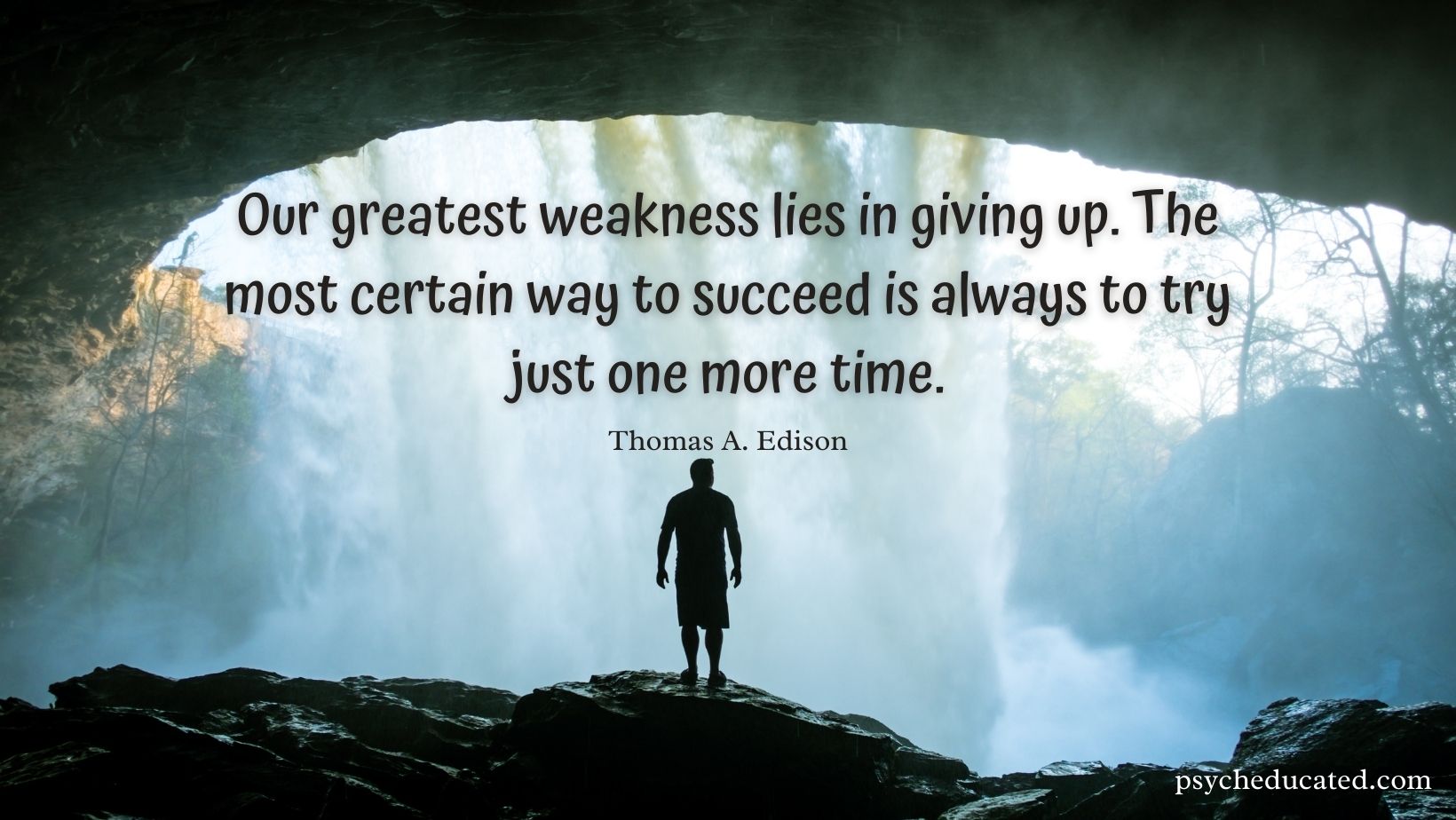 Our greatest weakness lies in giving up. The most certain way to succeed is always to try just one more time.

Thomas A. Edison
Some failure in life is inevitable. It is impossible to live without failing at something, unless you live so cautiously that you might as well not have lived at all–in which case, you fail by default.

J.K. Rowling
Don't quit. Suffer now and live the rest of your life as a champion.

Muhammad Ali
You don't learn to walk by following the rules. You learn by doing, and falling over.

Richard Branson
Ever tried. Ever failed. No matter. Try Again. Fail again. Fail better.

Samuel Beckett
Those who dare to fail miserably can achieve greatly.

John F. Kennedy
Never give up, and be confident in what you do. There may be tough times, but the difficulties which you face will make you more determined to achieve your objectives and to win against all the odds.

Marta
I've failed over and over and over again in my life and that is why I succeed.

Michael Jordan
In order to achieve anything you must be brave enough to fail.

Kirk Douglas
Shut the negative voices
Successful people will always tell you you can do something. It's the people who have never accomplished anything who will always discourage you from trying to achieve excellent things.

Lou Holtz
How to achieve greatness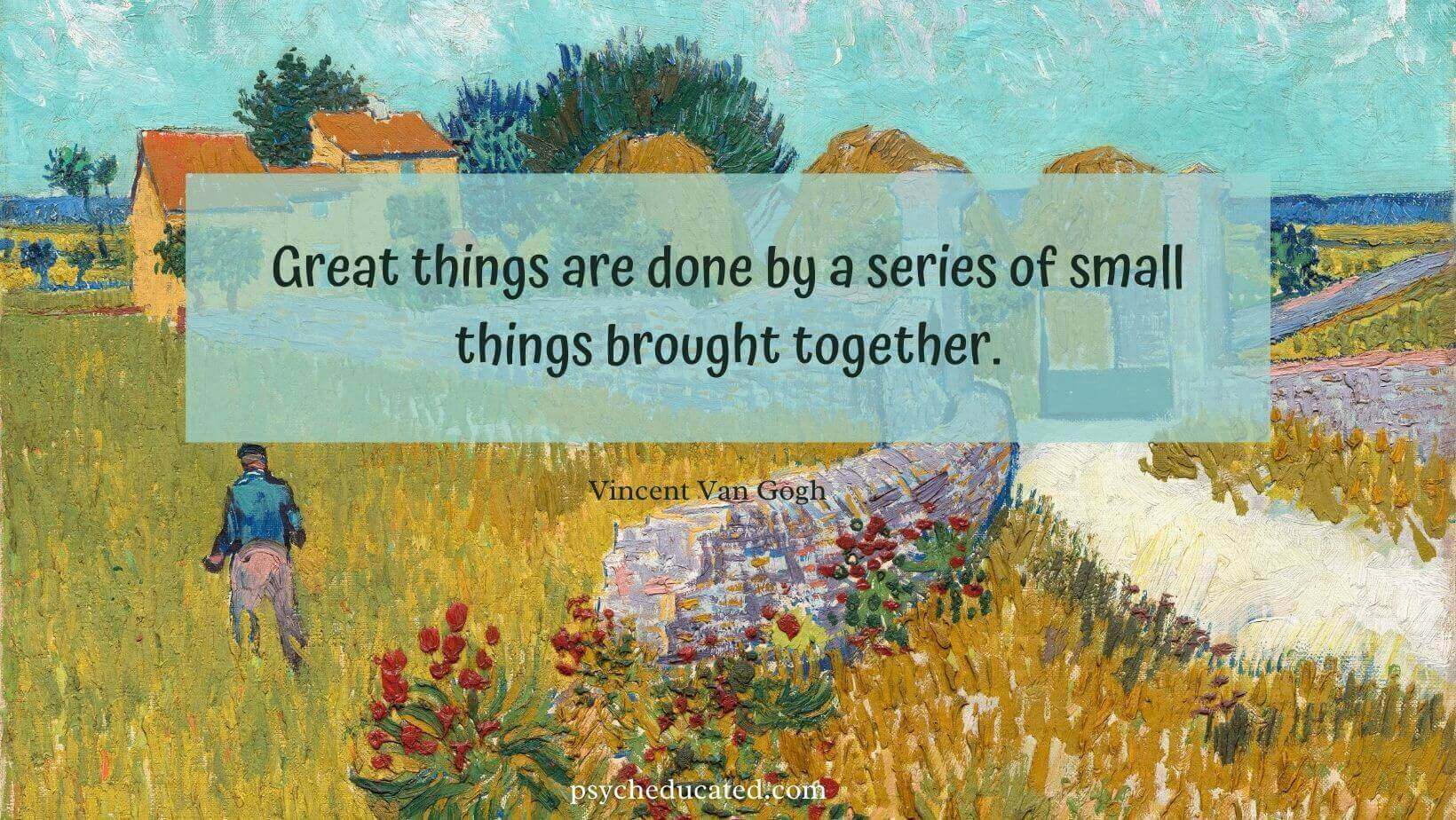 Great things are done by a series of small things brought together.

Vincent Van Gogh
Take up one idea. Make that one idea your life—think of it, dream of it, live on that idea. Let the brain, muscles, nerves, every part of your body, be full of that idea, and just leave every other idea alone. This is the way to success.

Swami Vivekananda
I see myself as the best footballer in the world. If you don't believe you are the best, then you will never achieve all that you are capable of.

Cristiano Ronaldo
To achieve great things, two things are needed; a plan, and not quite enough time.

Leonard Bernstein
Most people talk; we do things. They plan; we achieve. They hesitate; we move ahead. We are living proof that when human beings have the courage and commitment to transform a dream into reality, there is nothing that can stop them.

Mohammed bin Rashid Al Maktoum
I have short goals – to get better every day, to help my teammates every day – but my only ultimate goal is to win an NBA championship. It's all that matters. I dream about it. I dream about it all the time, how it would look, how it would feel. It would be so amazing.

LeBron James
I hope you enjoyed these inspirational quotes about achieving goals from these leaders and high achievers and had some wow moments like I did when I first read some of these quotes.
You may also be interested in this article: How To Overcome Obstacles Stopping You From Achieving Goals
Don't forget to share these inspirational quotes about achieving goals with your friends to motivate them as well to go after their goals and dreams!
Pin me!